Landscaping
Landscaping has aesthetic and functional dimensions, providing shade during hot summer months. Some considerations include: trees, artificial shading and ornamental plantings.
Shade Type
Providing shading at a dog park is an important design element. Depending on the location and preexisting conditions at the chosen site, Dog parks can use either natural shading from trees, or artificial shading. Each option presents pros and cons for costs and design but having at least one element in the dog park is vital.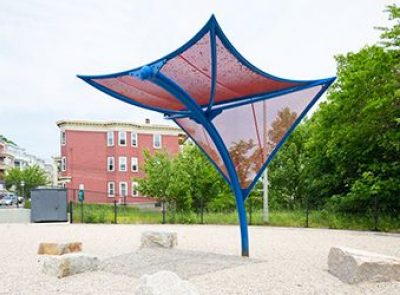 Artificial Shade
Artificial shade comes in multiple forms and in multiple materials. Some dog parks utilize steel frame canopies to protect dogs and their owners from the elements. Other dog parks choose to include a gazebo or pavilion to provide a communal element for dog park visitors.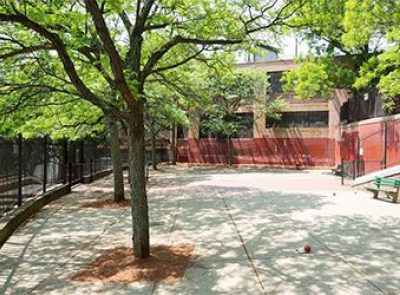 Trees
Trees located directly adjacent to or inside the fence line of the dog park should be protected with low fencing or with benches that surround the trees.
Location
While shade is an essential element of any dog park, remember that the dog park's primary purpose is the enjoyment of dogs and they should be able to run freely without obstacles. In some cases mature tree growth already exists, otherwise new trees or artificial structure must be installed and placement should be carefully considered.
have Ornamental Landscaping
Ornamental landscaping is not recommended inside the fence line for dog parks. Many plants are poisonous to dogs, and any plant beds will quickly be dug up as part of normal dog behavior. Outside the fence line, ornamental landscaping can provide aesthetic value.
See parks with Ornamental Landscaping